Garage Improvement, Floor Coating and Cabinets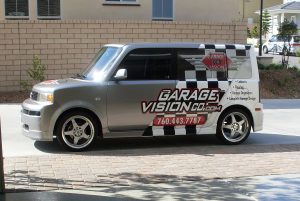 Garage improvement has been our owner's passion and primary mission since 2004. Starting Garage Vision Co. in 2010 we quickly became the "GO TO" professionals who provide the highest quality products and service for your residential or commercial garage needs. Your garage remodel may include custom installation of cabinets, wall storage systems, or floor coating. Garage Vision Co. provides you with the high class and showroom-quality flooring that resists stains and spills. Plus on top of all the custom installation, we will ensure that your garage floors are coated with not one but two coats of protective coating – at no extra cost.
We are proud to serve San Diego, South Riverside Counties (Temecula area) and South Orange County and Palm Desert communities. Your dream garage journey begins by contacting our office and scheduling an appointment for us to bring the showroom to you. Garage Vision Co comes to your home to discuss the challenges that you are dealing with in your garage, show you our products, and create the best solution at an affordable price.